AXIS P8535 Network Camera
Eye-level camera for identification
HDTV 1080p with 92° horizontal field of view
WDR – Forensic Capture
Flexible viewing direction
Two-way audio
4 configurable input/output ports for external devices
Full-sized SD card slot
Power over Ethernet or DC power
Superb performance, more reliable identification
AXIS P8535 Network Camera is a pinhole HDTV 1080p camera in an indoor height strip housing for eye-level video surveillance. The feature-rich, high-resolution camera supports Wide Dynamic Range – Forensic Capture, which enables details in both bright and dark areas of a scene to be visible.
Designed to be placed near exits of buildings, the camera is positioned to look straight at a person's face for more reliable identification, even when the person is wearing a hood or baseball cap. AXIS P8535 is ideal for retail, hotel and banking environments where height strips are often used to enable eyewitnesses to gauge the height of a fleeing person.
Sensor and main units
AXIS P8535 comes in separate units that include AXIS F1025 Sensor Unit and AXIS F41 Main Unit. The sensor unit—made up of a pinhole lens and image sensor with a 12-m (39-ft.) cable—is for installation in a height strip housing.
The main unit houses the processor, network and other connections. It supports two-way audio, four configurable input/output ports to external devices for enhanced alarm management, RS232 for integration of external data to the video, two full-sized SD card slots for local storage of recordings, Power over Ethernet and the option of powering through 8-28 V DC. The height strip housing is designed to be installed at exits, while the main unit can be placed elsewhere and away from public view.
Eye-level views
The height strip housing comes in black or silver with a metric or imperial height indicator. The sensor unit is mounted at a height of 170 cm in the metric model and 5.5 ft. in the imperial version as measured from the ground up. AXIS P8535 offers a wide 92° horizontal field of view. The sensor unit can be adjusted ±15° to set the desired viewing direction.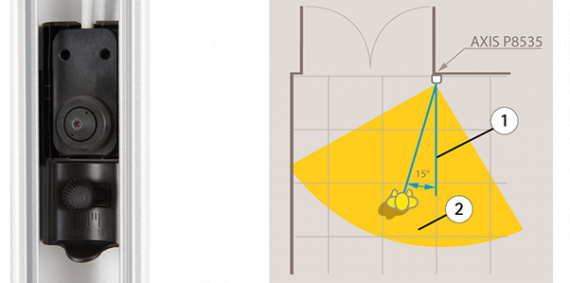 At left, sensor unit inside the housing with an adjustable ±15° pan for setting the desired viewing direction. At right, drawing of an installation at a doorway where the sensor unit is panned 15°, as indicated with the blue lines in (1) to provide the 92° field of view indicated in yellow (2).